Ice walking tour in Shiretoko, Utoro
Drift ice also known as Ryuhyou (流氷) is a phenomenon that is commonly sighted in winter from late January and till late March. It really depends on the wind direction and weather, to be honest. This time, my friend Helen and I signed up for a drift ice walking tour for our YOLO experience so I shall be sharing more about this. My friend Ogawa-san told me that Ryuhyou is something really unique to experience during this period so we decided that the focus of this whole trip would be this.
Please note that I am in no way affiliated to any tour agencies and hotels mentioned in this article and opinions are strictly my own.
On the way to Utoro
Strong cold winds…
Tours by Shinra
We signed up the tour by Shinra, an environmental group that runs eco tours in Shiretoko. They do a few other tours too so you can mix and match or pick a full day tour. Bear in mind that you have to inform your weight when you sign up so please be truthful about this so you get the correct size of dry suit.
Price: 5100 yen for adults. 2600 yen for kids 7-12.
Word of advice here:
do note the name of the tour guide you are assigned to in the confirmation as there can be another tour at the same time as yours by another tour guide.
We left in a small van and we were told to change into the dry suits provided by the tour guide. You can wear something warm inside like a base layer and if possible a fleece jacket if it is really cold.
The dry suit is actually not easy to put on. It feels like being bounded in rubber and i think i probably walked like a penguin.
To add on to your sense of security, you will never drown in this as the dry suit keeps you afloat on the water. Plus, it helps u stay warm! I frankly didn't feel cold in this.
The Experience
And then the tour guide started leading us to the seaside and we treaded on the ice in one line. She tested out the path and made sure that we don't step on thin ice. Well, it wasn't easy. Some ice are so slippery that I could hardly stand up. Some people fell a few times and that's normal.
For me, the experience was …kinda terrifying. I was so conscious of my step then and while shooting with my gopro that I lost my step quite a few times. The ice was moving as we walked. It was thrilling. I was wondering if I would fall into the water anytime.
Adding on, you are actually able to fully immerse in the water and float! (If you dare to)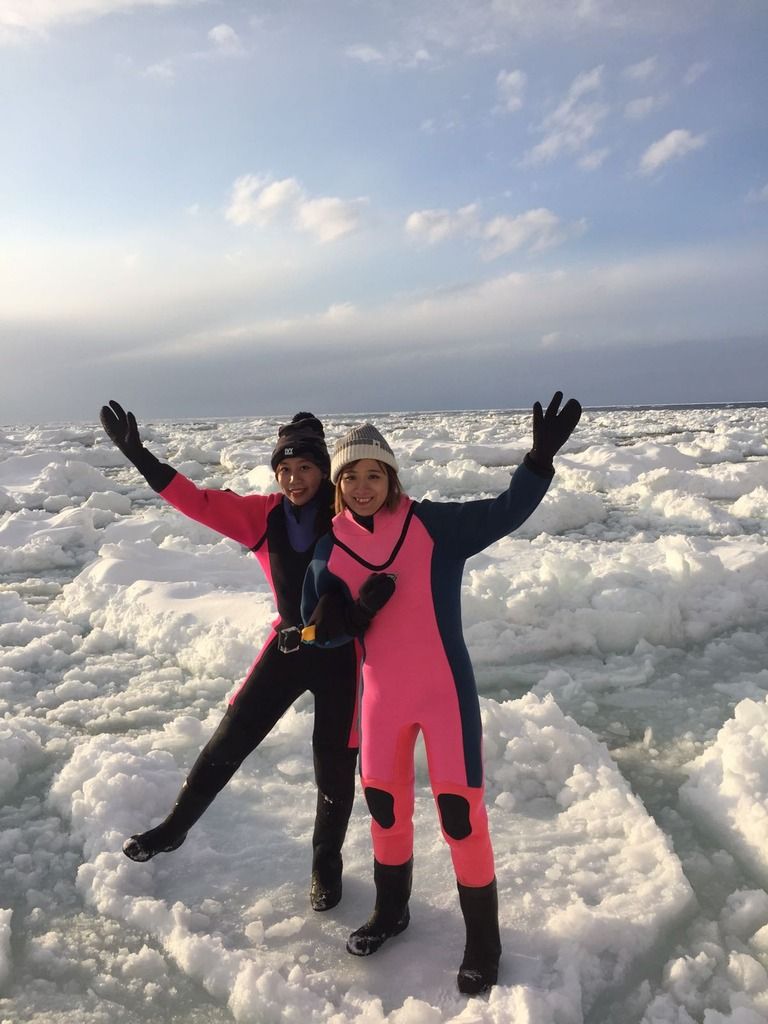 We stayed and watched the sunset. It was probably the most memorable experience i did the entire trip. We were so lucky to be able to do it that day because the most of the ice were already swept away by the wind the next day.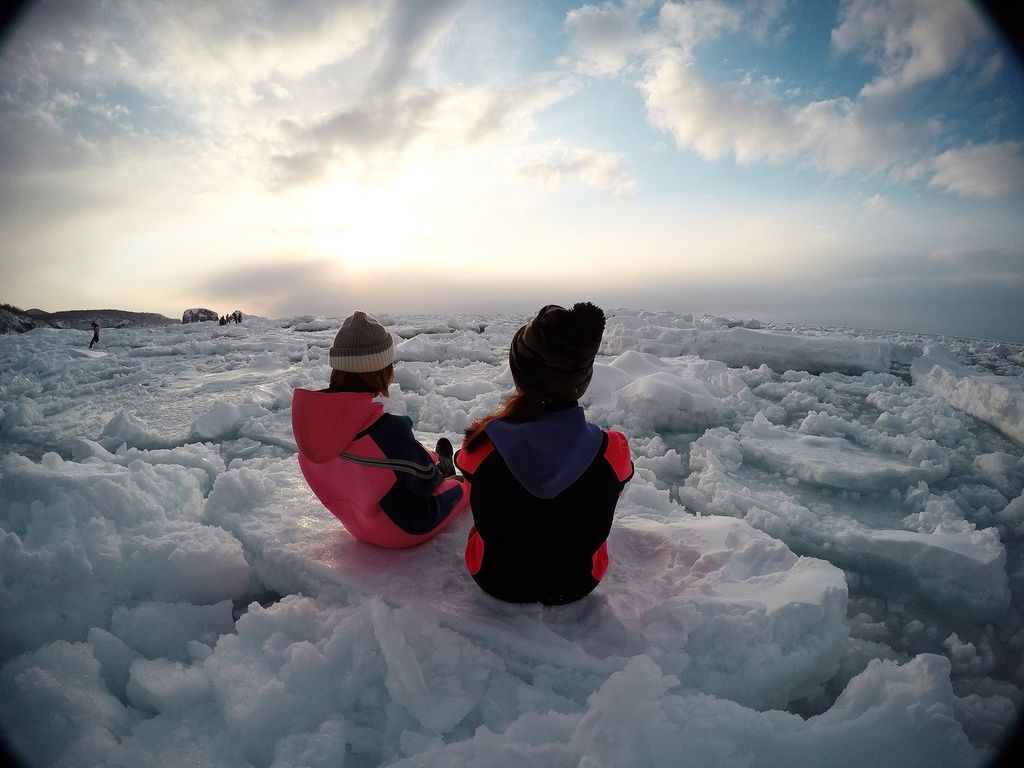 Here is a video from the ice walking tour:
Enjoy!
[wpvideo gcZSNrtW]
Resources
Where to Stay
The tours conduct pickup at a few designated places and hotels. In our case, we actually booked a hotel in that list which turned out to be probably the best hotel i stayed for this trip. We chose to stay at Prince Hotel Kazanomiki (プリンスホテル風のみき).
We actually got a really good deal from Jalan.net (Japanese site). I think that the English site targets foreigners so they're a tad expensive.
What is good here
Omg!! What else other than the crazy selection of fresh seafood?!
Actually the hotel is up on the hill so we usually just get the friendly concierge to transport us to the meeting point just 5-10 minutes down the hill. The reason we didn't walk there was because of the slippery road and snow.
Service: 5 out of 5
How to Travel to Utoro
You will need to get on a JR train to JR Shiretoko Shari station and then take a bus to Utoro. The JR pass doesn't cover the bus fare, costs 1650 yen one way and takes about 50 minutes.
Alternatively, you can get on a bus from Memanbetsu Airport and it takes a little over 2 hours and costs 3300 yen one day.
For my guide on JR Passes in Hokkaido, please click here.