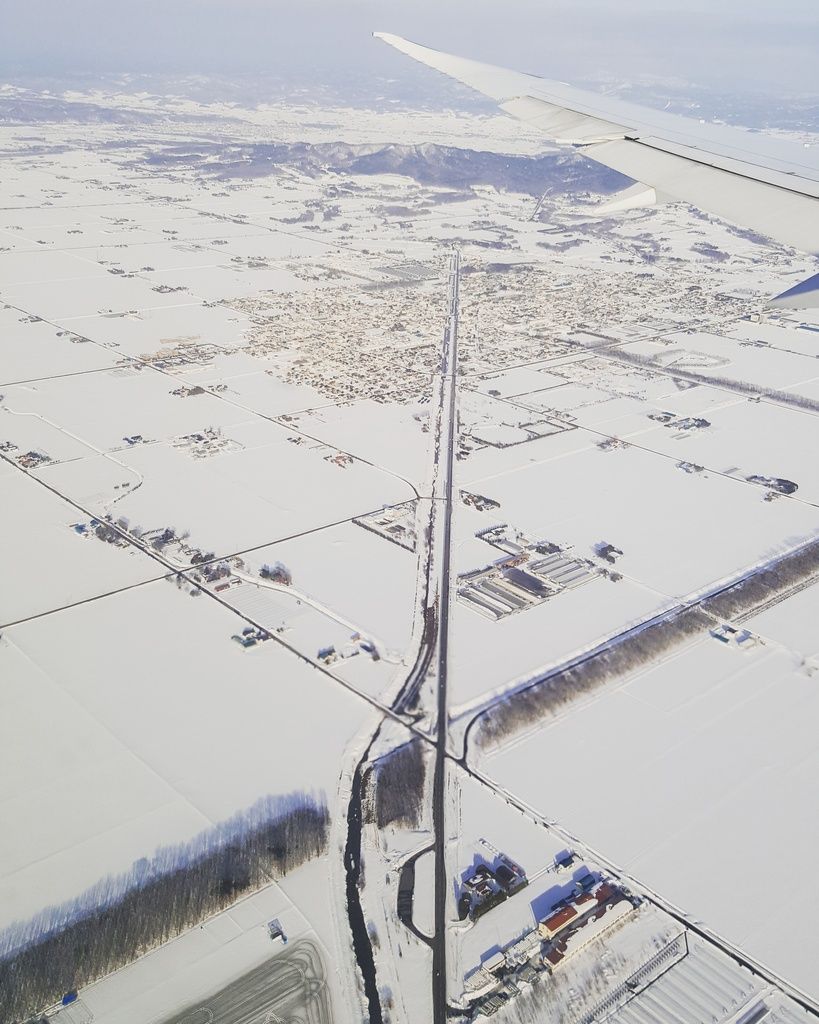 Why this is the best place to stay in Biei, Hokkaido
What makes you consider it as the best place to stay?
It has been more than 3 years since I last came to Hokkaido. This snowscape from the plane makes me feel even more excited than ever and I immediately wished that it was Christmas.
This vacation I chose to reconnect with my old friends whom I met more than 3 years ago. The keyword is "reconnect". And this time round, I decided to come in winter to have my slice of winter wonderland. If you have read my previous blogposts where I was working as a helper at a guesthouse, you guessed it right – I'm heading back there – but this time round as a guest!
I arrived at this station at close to 9pm at night wearing 3 or 4 layers but I saw a young teenager guy wearing just a thin sweater on the train. It was minus 5 or 6 degrees in this picture! I think being brought up here really trains your resistance to coldness.
The House
Here is a picture of the hallway of the guest house. This extremely rustic pension house is built by the owner himself! He designed and I believed, built the entire thing with his own hands. He is an architect.
I'm gonna say a few words of advice to travellers seeking the authentic experience of Hokkaido as I've lived here before. Yes, hotels are comfortable but nothing beats staying in a place that you can feel like home. And this is the number one reason why people kept coming back and somehow everyone knows everyone.
I think it is also because of my experience living here as a stay-in worker/guest that Hokkaido became my favorite place in Japan to travel to. It is a place where you cannot get tired of as all four seasons are extremely picturesque and you can experience or see something different everyday.
This is my first time in Hokkaido in winter.
Above is a random night of stargazing i took on my camera. Sorry for the poor quality because it is an absolute understatement of the beauty of the starry sky.
But this is enough to be the best place to stay in Biei, Hokkaido!
The Meals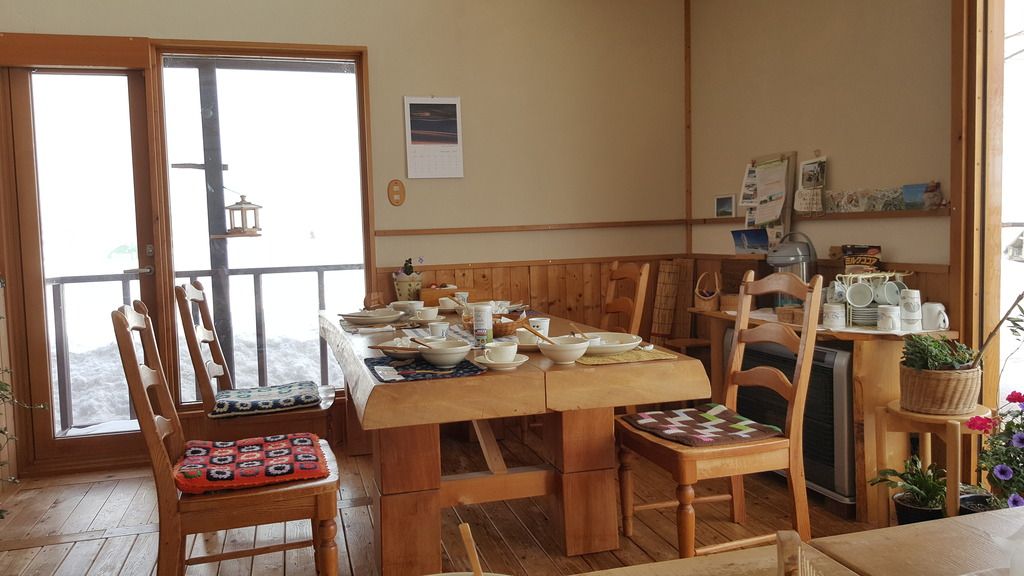 Breakfast consists of fresh salad and fruit and some pumpkin potage. There is also bread baked fresh in the morning but I simply forgot to take picture as I was busy eating. My favorite bread is actually the sweet bean bun which is baked fresh every morning by Naho-san (lady owner). The sweet beans are from Tokachi where they are most famous for! Naho-san kneads the dough for the bread the night before while we were all sitting around and chatting after dinner. I did tried it myself and realized it's actually not easy. You will know how fresh it is after eating one of her baked masterpieces.
We actually alternate the western style and Japanese style breakfasts. Here is the Japanese style.

Here's the view from the dining room.
Have i told you what you can do around the house?
SNOWSHOE!!
W spent about three nights here. At the end of the 3rd night, my buddy Helen had said that she was a little sad to leave. We had made so many friends here. It is a place where you could know people in all walks of life.
I've stayed in so many hotels and hostels, I don't think any place could match up to the coziness as this place which is why I call it the best place to stay in Biei, Hokkaido (yet I find it an understatement).
I think nothing beats the best place to stay if it makes you feel like home.
Resources:
Hoshi No Anne | Email: hoshinoanne-hata@nifty.com
In any case this place is full, you can also check out this place which is a similar rustic cottage guesthouse located not far away:
Alp Lodge Biei
www.alp-lodge.com | E-mail alp-lodge@memoad.jp